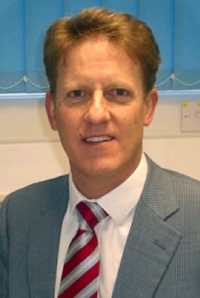 Mr Wayne Halfpenny

(GMC 4108139, GDC 61805)
BDS MBBS FDSRCS FRCS FRCS (MAX FAC)

Wayne Halfpenny is a Consultant in Oral and Maxillofacial Surgery at Royal Free London NHS Foundation Trust (incorporating Barnet and Chase Farm Hospitals) and has over 20 years experience in the speciality. He is qualified both in Medicine and Dentistry and is a fellow of the Royal College of Surgeons and member of the Association of Facial Plastic Surgeons, British Association of Oral and Maxillofacial Surgeons and the British Association of Endocrine and Thyroid Surgeons. He is the Trust lead clinician for Head and Neck Cancer/Reconstruction. Wayne's particular clinical interests are in facial reconstruction/plastic surgery, surgical dentistry, temporomandibular (jaw) joint disorders and facial pain. Both privately and in the NHS Wayne works jointly with pain management consultants to provide multidisciplinary care for those patients with complex facial pain problems.
Mr Peter McDermott

(GMC 3123199, GDC 48489)
MA MB.B.Chir BDS FDSRCS FRCS

Mr Peter McDermott was appointed as a consultant to Chase Farm Hospital in 1994. He was formerly a Senior Registrar at University College, Mount Vernon and Great Ormond Street Hospitals. He qualified in BDS at Guys Hospital, MBChir Cambridge/ Middlesex, FDS RCSEngland and FRCS, Edinburgh. Peter is a consultant Maxillofacial surgeon and has been volunteering with the international charity Mercy Ships. The charity runs the world's largest charity hospital ship, the Africa Mercy, which provides free healthcare and training to local healthcare workers. During his training Peter spent four years at The Eastman Dental Hospital where he worked closely with psychiatric colleagues to develop a more holistic approach to the diagnosis and treatment of facial pain. He has developed this field extensively in the locality both within NHS and Private practice. His other interest, in addition to providing a comprehensive oral surgical service, is the surgical management of head and neck skin cancer. For 20 years he has liaised closely with dermatology colleagues within a multidisciplinary team to provide optimal treatment and cosmetic reconstruction of the facial tissues. Peter's areas of interest include facial pain and facial skin cancer.